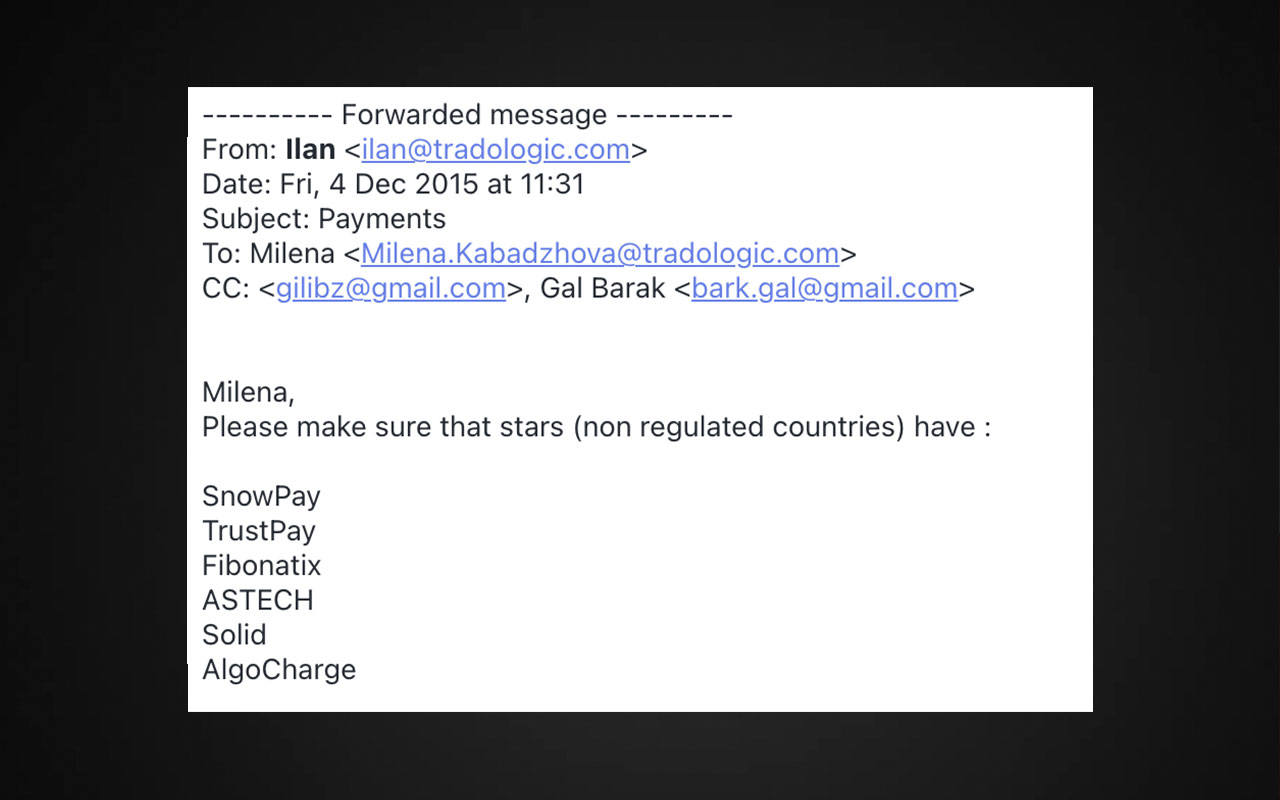 Jubiter: The Payment Facilitator Behind FinTelegrams Booming Multi-million Dollar Fraud Networks
Jubiter (https://www.jubiter.com/ ) is one of the brands key to Ilan Tzorya's booming fraud networks. The website has facilitated the payments made through numerous fake trading websites set up by Tzorya and his closest ally and business partner, Werner Boehm.
Jubiter has been in the spotlight for receiving money from the victims of fraud through credit cards, converting the currencies into crypto, and sending them to Tzorya through anonymous wallets without being traced. Established many years ago, Jubiter paused as a legitimate website offering cryptocurrency services such as exchanges involving bitcoin, crypto mining, and high-risk crypto trade.
Extortion As a Tool For Trade
Before partnering with the Tradologic fraud network, Ilan Tzorya and Werner Boehm—the owners of a fake financial news outlet known as FinTelegram, attacked Amihay Inbar for allegedly engaging in online fraud through Jubiter.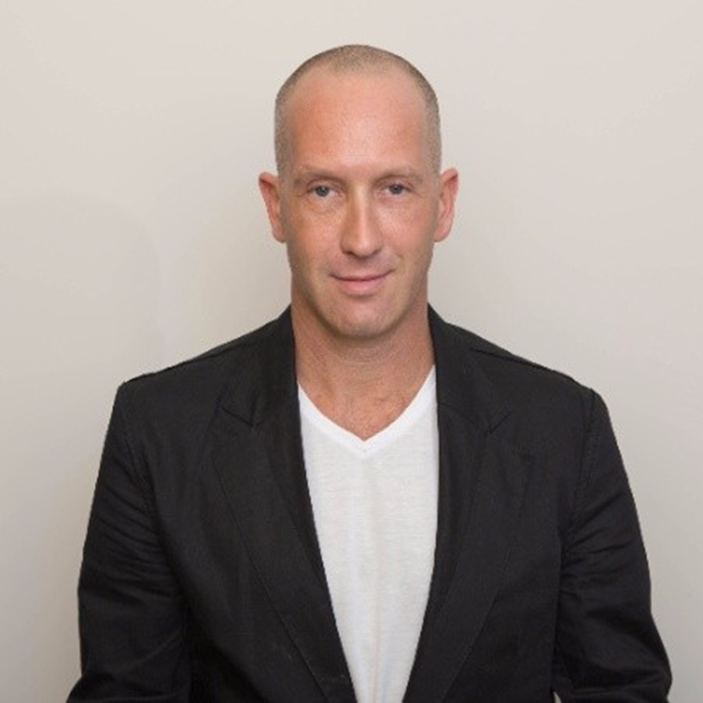 And at that time, Tzorya had problems getting a trustworthy payment gateway that would help him transfer the fraud money across platforms without trading out the secret. Therefore, Jubiter's services were essential for his murkier business.
Extortion being one of the main motives behind FinTelegram, Tzorya and Boehm reached out to Jubiter's owner, Amihay Inbar, threatening to tarnish his business image if he would not pay them to stop writing negative articles about his business. And instead of asking for a one-time lamsum money, Tzorya decided to strike a deal with Inbar to use his company's services in exchange for pulling down and not publishing negative articles about his business on Fintelegram.
Based on their deal, Inbar agreed to use Jubiter to facilitate the conversion of the money paid by victims on fake options trading websites and permanently transfer the money to Tzorya's anonymous account in a manner that can not be traced or refunded. With the deal done, Tzorya and Boehm got their fraud money facilitated by Jubiter, and in return, they published no negative article about Inbar's business and binary fraud claims.
Jubiter: a Fraud Funneling Stolen Money to Ilan Tzorya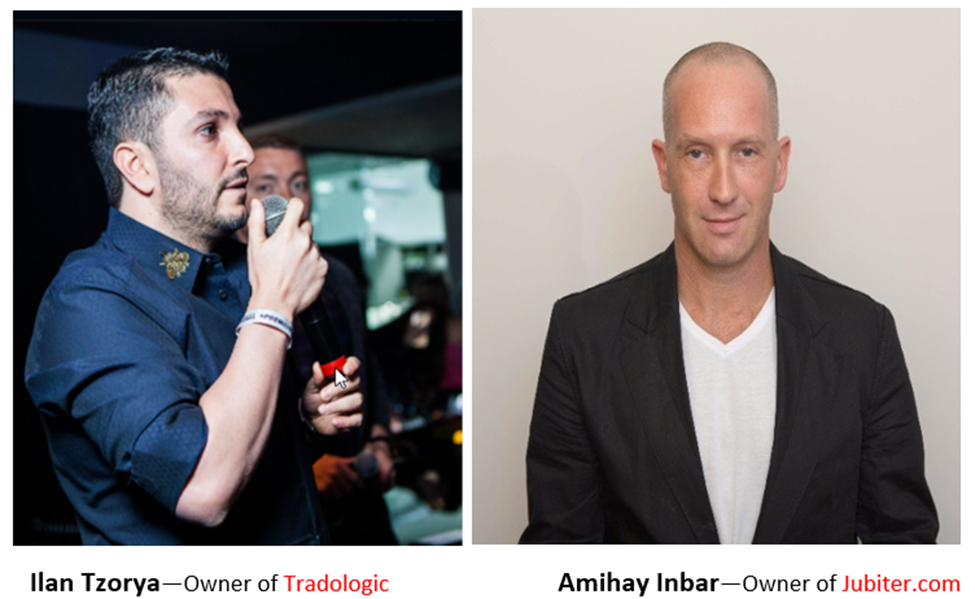 Jubiter started well before being hijacked by Tzorya and his team to act as a funnel for collecting the fraud money and sending them to Tzorya in the form of crypto. Even so, our investigations show the website itself is a scam as the owners remain anonymous using a service.
Despite having existed for a bit longer, a deep dive into the website's history raises a red flag since the ownership of the website seems to have changed somewhere between 2014 and early 2018.
Considering many online customers tend to trust websites that have stayed around for quite longer than the newcomers, many scammers buy older domains to win the majority trust and scam many victims convinced that the website has existed for many years without a fraud record. And that's likely the case with Inbar's website, Jubiter. By 2014, the website was live but wasn't used for crypto trading.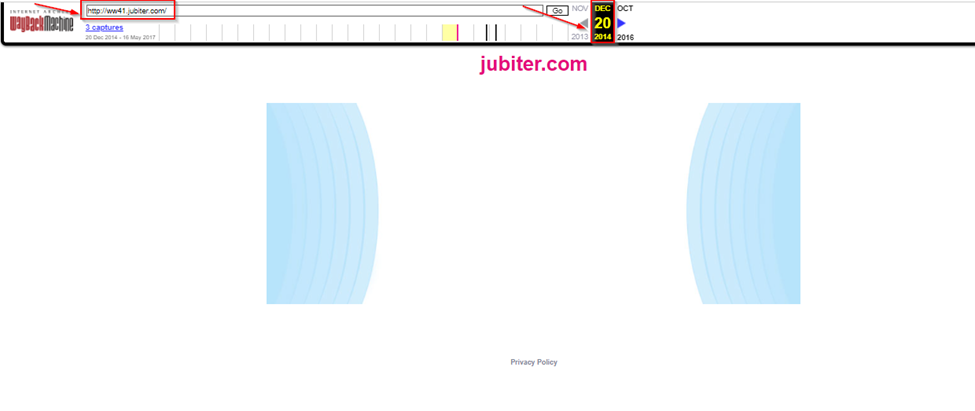 Based on the screenshot attached, the website had a different outfit and was redirected to http://ww41.jubiter.com/in in 2014. As of August 1, 2015, the domain was set for sale until early 2018, when the website was rebranded, and a new Jubiter logo was added as the website started trading crypto.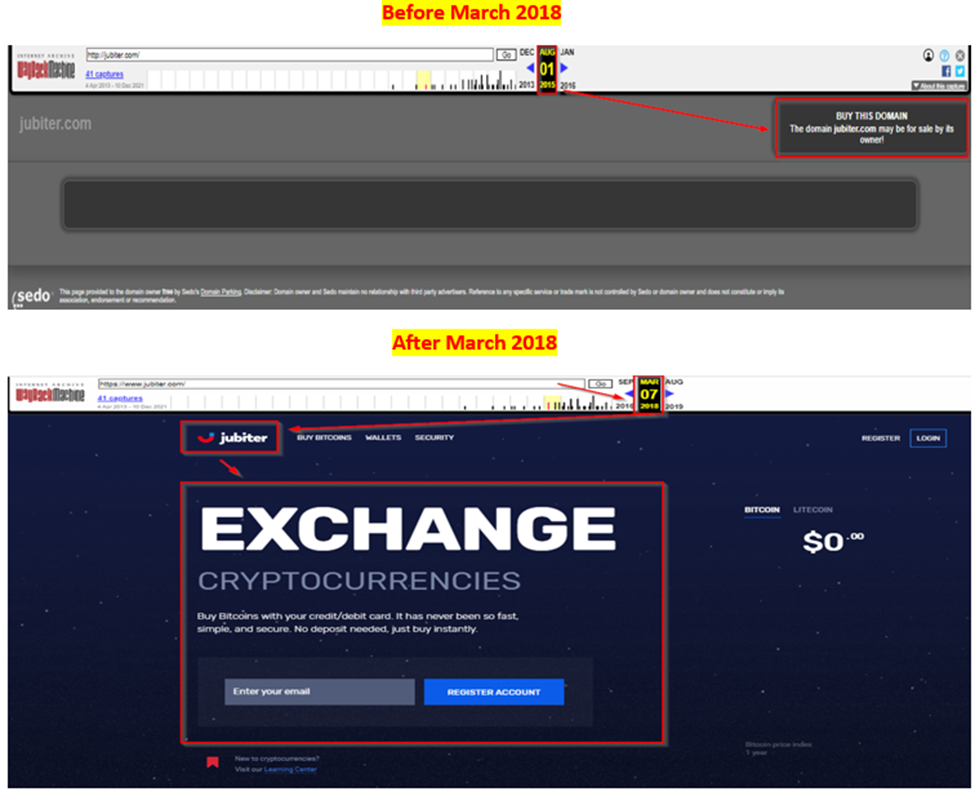 Even though Inbar is the current owner of the website, the screenshot proof shows he wasn't the first owner of the site but seems to have bought it from somebody else due to its age to run online scams and fraud under the guise of offering crypto services.
Moreover, the website has a low Alexa ranking reflecting its low number of visitors. Having the owners hidden behind a service could also be one of the reasons for the website's low ranking. Jubiter also used anonymous payment methods, making it difficult to trace back payments to the recipients in any loss.
In 2021 alone, many people filed complaints against Jubiter in the UK and other parts of Europe. They also reported the website to other scam whistle-blower sites such as Scamadviser.com and Safe.shop. Others also left their comments on website review platforms such as trustpilot.com.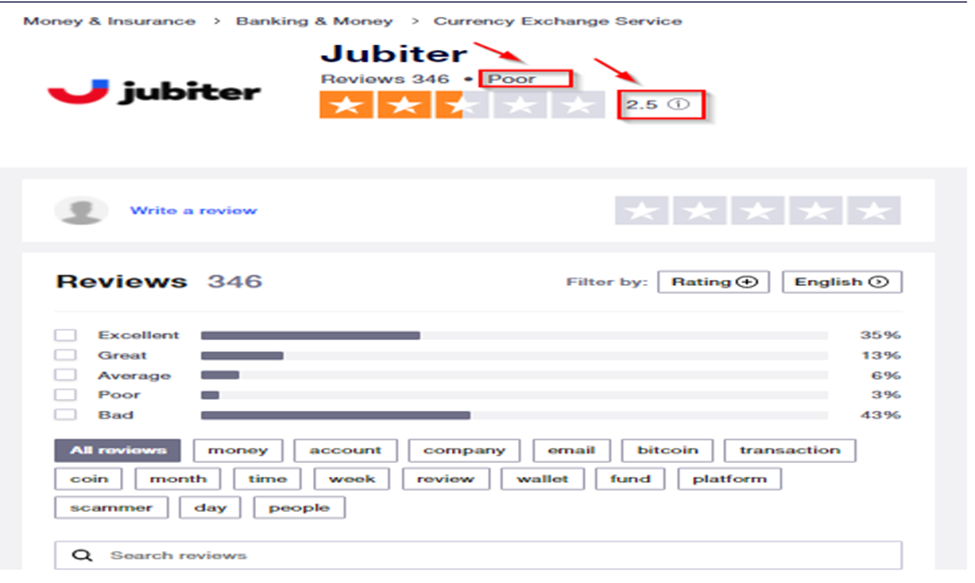 What's The Method?
Being part of the Tradologic scam network, Inbar's Jubiter defrauded victims using a method similar to other scams run by Ilan Tzorya, his partners, but using cryptocurrency. As soon as the victims transferred money to the fake online trading websites Tzorya and his team set up, the money would be transferred to Jubiter.
Amihay Inbar and his team would then use it to buy Bitcoin and send it externally to Ilan Tzorya's accounts without the victims' knowledge. Take a look at the screenshots below and see how it works.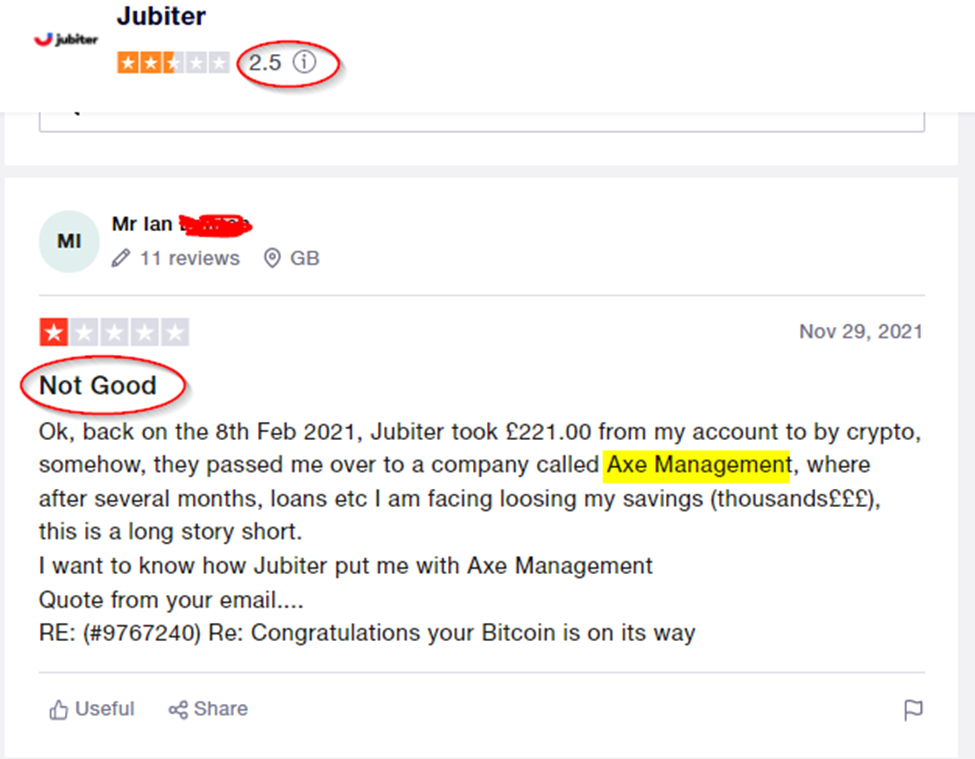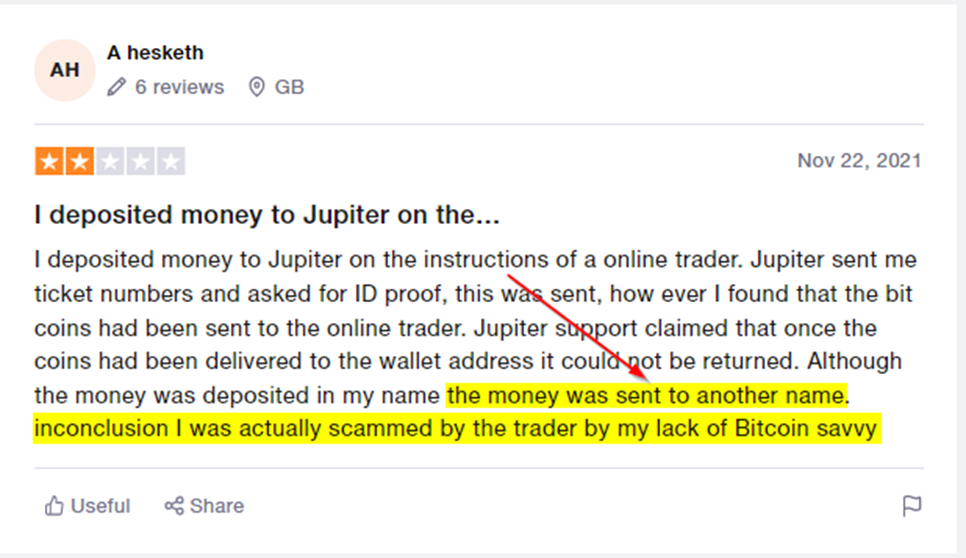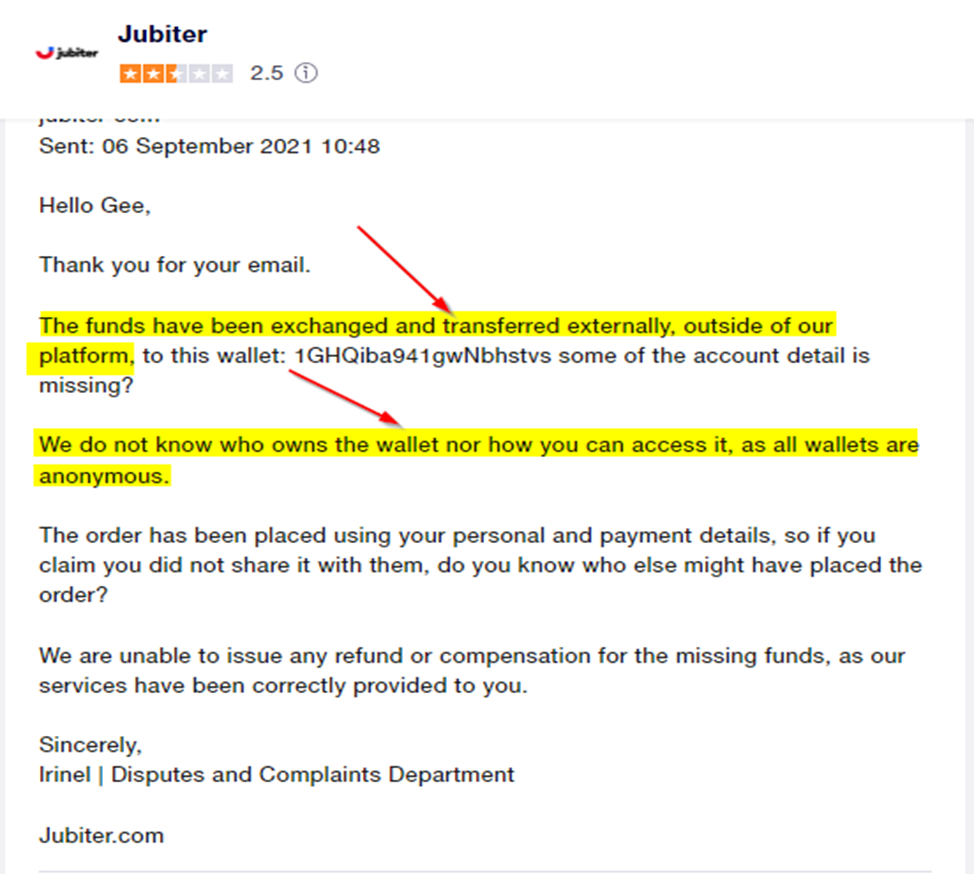 Besides transferring the victims' Bitcoins to unknown wallets, the platform claimed the transaction was irreversible. As such, once the company sent the bitcoins to Tzorya's wallet, it was a permanent transfer, and in no case would any victim get their crypto back through the same process unless the recipient sends the money back.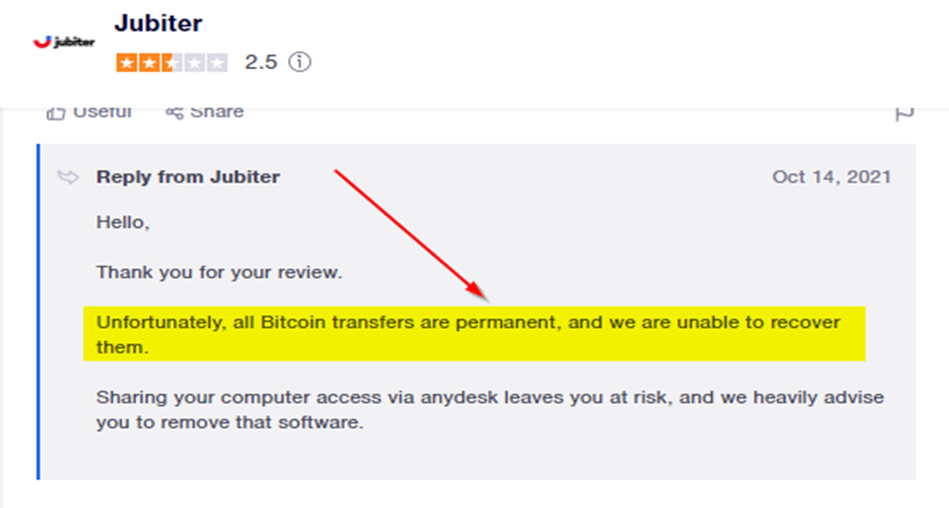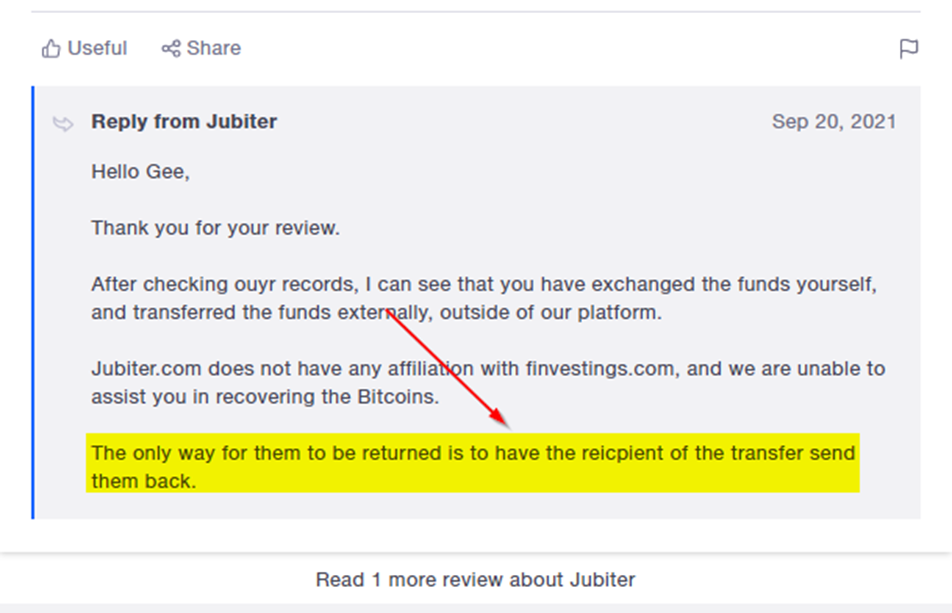 Being a sophisticated scammer's site run by Tzorya and Inbar, the Jubiter would, on many occasions, block access to a wallet shortly after the victims transferred the money to the platform, robbing them of their money.
If you were scammed or have a friend or a family member who lost money through this fraud website, please report the matter to relevant authorities and get the scammers held accountable for the massive fraud venture.